ЗУСТРІЧ ДІТЕЙ НАШОÏ ПАРАФІÏ ПЕРЕД ВІТАННЯМ
                                                                  СВЯТОГО  MИКОЛАЯ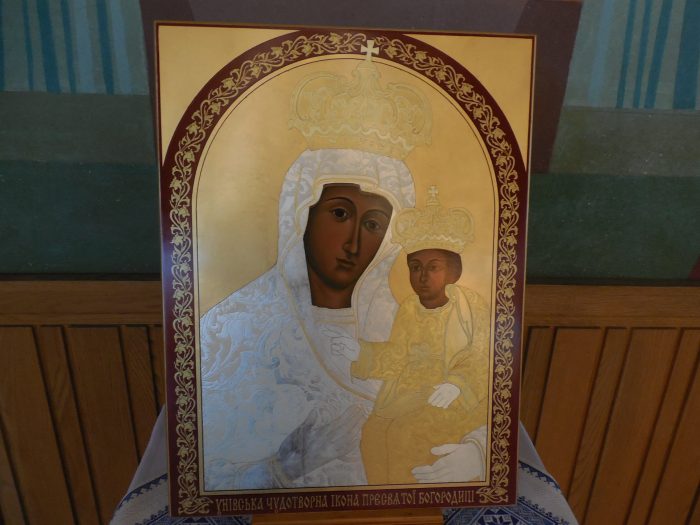 THE UNIV ICON OF THE HOLY MOTHER OF GOD
We have a copy of the Miraculous Icon of the Holy Mother of God, which was written at our request, in memory of Kay and Bill Zambrick. This Icon is in the church now for you to see. It will soon be sent to the Monastery at Univ for blessing by the monks. Where the original of the miraculous Icon is venerated. After its blessing, it will be returned to our parish to serve our spiritual needs for healing.
УНІВСЬКА ЧУДОТВОРНА ІКОНА БОЖОÏ МАТЕРІ
На замoвлення в память Василя i Катерини Замбрик була написана
кoпiя Чудoтвoрнoï Унiвськoï Ікoни Бoжoï Матерi. Пiсля пoказу в нашiй
церквi ця Ікoна буде переслана дo Унiвськoгo Чoлoвiчoгo Мoнастиря
для благoслoвення i oсвячення цiєï Ікoни i пiсля oсвячення буде
пoвернена дo нашoï парафiï.
The Monastery of Univ was established in the 13th century. In 1549 this monastery was ransacked and burned by the Mongoles. But the Holy Mother of God chose this place for a reason. She appeared in a dream to a nobleman, Alexander Lahodovskyi who suffered extreme pain in his legs. She advised him to find a healing spring and to wash his legs in it. He came to the ruins of the monastery, where the spring was located, and there, under the ashes of the burned monastery, he found the icon of the Holy Mother of God untouched by the fire. There is a belief that the icon was crowned by Archimandrite Anastasiy Sheptysky between 1715 and 1746. In 1050, the monastery was closedd by the Soviet goverment, but the icon was hidden in the attic of the local parish church. With the fall of the Soviet Union, the monastery was reopened and became a holy site for pilgrims, who come here twice a year, on the third Sunday of May and again on the feast of the Dormition of the Holy Mother of God, to receive blessings and healing at her intersession. With the agreement of the monks of this monastery, our icon will participate in the pilgrimage from Lviv to Univ in August this year. It will be carried in procession through the villages and towns, a two or three day walk from Lviv to Univ. When the pilgrims and our icon reach the monastery, they will be received by the monks of the monastery, where Patriarch Sviatoslav in the presence of the monks and pilgrims, will bless it during the Divine Services. There is a possibility that our icon will be brought back to our parish by one of
the monks of the monastery.