BULLETIN



Sun Nov 10, 2019
9:30am  Divine Liturgy /Ukr./
11:30am  Divine Liturgy /Eng./
Tue Nov 12, 2019
There will be no liturgy today

Wed Nov 13, 2019
9:30am  Divine Liturgy
Thur Nov 14, 2019
There will be no liturgy today
Fri Nov 15, 2019
9:30am  Divine Liturgy
Sat Nov 16, 2019
There will be no liturgy today
Sun Nov 17, 2019
 9:30am  Divine Liturgy (Ukr.)
11:30am  Divine Liturgy (Eng.)
Sunday  Nov 17, 2019
Troparion, Tone 6
Angelic powers were upon Your tomb* and the guards became like dead men;* Mary stood before Your tomb* seeking Your most pure body.* You captured Hades without being overcome by it.* You met the Virgin and granted life.* O Lord, risen from the dead,* glory be to You.
Glory be to the Father, and to the Son, and to the Holy Spirit, now and for ever and ever. Amen!
Kontakion, Tone 6
With his life-giving hand* Christ our God, the Giver of life,* raised all the dead from the murky abyss* and bestowed resurrection upon humanity.* He is for all the Saviour,* the resurrection and the life, and the God of all.
Prokimenon, Tone 6
Save Your people, O Lord, and bless Your inheritance.
Verse: Unto You I will cry, O Lord my God, lest you turn from me in silence.
Epistle
A reading from the letter of the Holy apostle Paul to the Ephesians (2:4-10)
Brothers and Sisters! God is rich in mercy; because of his great love for us he brought us to life with Christ when we were dead in sin. By this favour you were saved. Both with and in Christ Jesus he raised us up and gave us a place in the heavens, that in ages to come he might display his kindness to us in Christ Jesus. I repeat, it is owing to his favour that salvation is yours through faith. This is not your own doing, it is God's gift; neither is it a reward for anything you have accomplished, so let no one pride himself on it. We are truly his handiwork, created in Christ Jesus to lead the life of good deeds which God prepared for us in advance.
Alleluia Verses:
He who lives in the aid of the Most High, shall dwell under the protection of the God of heaven.
He says to the Lord: You are my protector and my refuge, my God, in Whom I hope.
Gospel READING
Luke 8:26-39
At that time, Jesus came into the country of the Gerasenes, which is opposite Galilee. When he came to land, he was met by a man from the town who was possessed by demons. For a long time he had not worn any clothes, he did not live in a house, but among the tombstones. On seeing Jesus he began to shriek; then he fell at his feet and exclaimed at the top of his voice, "Jesus, Son of God Most High, why do you meddle with me? Do not torment me, I beg you." By now Jesus was ordering the unclean spirit to come out of the man. This spirit had taken hold of him many a time. The man used to be tied with chains and fetters, but he would break his bonds and the demon would drive him into places of solitude. "What is your name?" Jesus demanded. "Legion," he answered, because the demons who had entered him were many. They pleaded with him not to order them back to the abyss. It happened that a large herd of swine was feeding nearby on the hillside, and the demons asked him to permit them to enter the swine. This he granted. The demons then came out of the man and entered the swine, and the herd charged down the bluff into the lake, where they drowned. When the swineherds saw what had happened, they took to their heels and brought the news to the town and country roundabout. The people went out to see for themselves what had happened. Coming on Jesus, they found the man from whom the devils had departed sitting at his feet dressed and in his full senses; this sight terrified them. They were told by witnesses how the possessed man had been cured. Shortly afterward, the entire population of the Gerasene territory asked Jesus to leave their neighbourhood, for a great fear had seized them, so he got into the boat and went back across the lake. The man from whom the devils had departed asked to come with him, but he sent him away with the words, "Go back home and recount all that God has done for you." The man went all through the town making public what Jesus had done for him.
Communion Verse
Praise the Lord from the heavens, Praise Him in the highest. Alleluia! Alleluia! Alleluia!
NOVEMBER 2019 - FEBRUARY 2020
November 17, 2019 /Monday/
PARISH COUNCIL MEETING
November 23, 2019 /Saturday/
PARISH ANNUAL BAZAAR
December 15, 2019 /Sunday/
St. NICHOLAS CONCERT /One Liturgy/
December 24, 2019 /Tuesday/
Great Complines
Nativity of our Lord LITURGY
December 25, 2019 /Wednesday/
Nativity of our Lord LITURGY
January 1, 2020 /Wednesday/
CIRCUMCISION OF OUR LORD
BASIL THE GREAT ARCHBISHOP
January 6, 2020 /Monday/
GREAT COMPLINES
NATIVITY OF OUR LORD LITURGY
January 7, 2020 /Tuesday/
NATIVITY OF OUR LORD LITURGY
January 19, 2020 /Sunday/
JORDAN DINNER /One Liturgy/
February 8, 2020 /Saturday/
FAMILY PARTY
ВІСНИК

Недiля Лист. 10, 2019
9:30р. Свята Лiтургiя /Укр./
11:30р. Свята Лiтургiя / Анг./

Вiв Лист. 12, 2019
Лiтургiï не буде

Сер Лист. 13, 2019
9:30р.  Свята Лiтургiя

Чет Лист. 14, 2019                                                                                                                                                                                           Лiтургiï не буде

Пят Лист. 15, 2019
9:30р.  Свята Лiтургiя
Суб Лист. 16, 2019
Лiтургiï немає

Нед Лист. 17, 2019
9:30р.  Свята Лiтургiя /Укр./
11:30р. Свята Лiтургiя /Анг./
Недiля 17 листoпада 2019

Тропар, Глас 6
Ангельські сили на гробі Твоїм,* і ті, що стерегли, змертвіли,* і стояла Марія у гробі,* шукаючи пречистого Тіла Твого.* Полонив Ти ада, та не спокусився ним;* зустрів єси діву, даруючи життя.* Воскреслий з мертвих, Господи, слава Тобі!
†Слава Отцю, і Сину, і Святому Духові* і нині, і повсякчас, і на віки віків. Амінь.
Тропар, Глас 6
Життєначальною долонею* умерлих із мрячних долин* життєдавець воскресив усіх Христос Бог,* воскресення подав людському родові;* Він бо всіх Спаситель,* воскресення і життя і Бог усіх!
Прокімен, Глас 6
Спаси, Господи,* людей Твоїх,* і благослови насліддя Твоє.
Стих: До Тебе, Господи, взиватиму, Боже мій, єо не відвернувся Ти мовчки від мене.
Апостол
До Ефесян Послання св. апостола Павла читання. (2:4-10)
Браття і сестри! Бог, багатим милосердям, з великої своєї любови, якою полюбив нас, мертвих нашими гріхами, оживив нас разом із Христом: благoдаттю ви спасені. І, разом із ним, воскресив нас, і разом посадив на небі у Христі Ісусі, щоб у майбутніх віках він міг показати надзвичайне багатство своєї благодатті у своїй доброті до нас у Христі Ісусі. Бо ви спасені благодаттю через віру. І це не від нас: воно дар Божий. Не від діл, щоб ніхто не міг похвалитися. Бо ми його сотворіння, сотворені у Христі Ісусі для добрих діл, які Бог уже наперед був приготував, щоб ми чинили.
Стихи Алилуя
1. Хто живе в помочі Всевишнього, під крівлею Бога небесного водвориться.
2. Скаже Господеві: «Заступник мій єси і прибіжище моє, Бог мій, і надіюся на Нього.»
ЧИТАННЯ Євангелiє
Лука 8:26-39
В той час прийшов Ісус у Герасин-околицю, що проти Галилеї. Як Ісус вийшов на берег, попався йому на зустріч один чоловік з міста, що мав бісів. Він з давнього часу не носив одежі і мешкав не в хаті, а в гробах. Побачивши Ісуса, він закричав, припав йому до ніг і сказав сильним голосом: Що мені і тобі, Ісусе, сину Бога Всевишнього? Благаю тебе, не муч мене! Він бо велів нечистому духові вийти з чоловіка. Дух той часто хапав чоловіка, і його тоді в'язали кайданами та ланцюгами і стерегли, та він трощив окови, і демон гонив його по пустинях. Ісус спитав його: Як тобі на ім'я? — Леґіон, відповів той, багато бо бісів увійшло в нього. І вони благали його, щоб він не велів їм іти в безодню. Було ж там велике стадо свиней, що паслося на горі, і демони просили його, щоб він дозволив їм увійти в них. Він дозволив їм. Вийшли демони з чоловіка, увійшли в свиней, і кинулося стадо з кручі в озеро і потонуло. Побачивши, що сталося, пастухи кинулись урозтіч і розповіли при це в місті та по селах. І вийшли люди подивитися, що сталось. Прибули вони до Ісуса і найшли, що чоловік, з якого вийшли біси, сидів при ногах Ісуса, одягнений та при умі — і злякались. Наочні свідки їм розповіли, як вилікувався біснуватий. Тоді все населення герасинської округи почало його просити, щоб відійшов від них, бо великий страх огорнув їх. І він увійшов до човна і вернувся. А чоловік, з якого вийшли біси, просив Ісуса, щоб бути з ним, але він відпустив його, кажучи: Вернися додому і розкажи все, що Бог зробив тобі. Пішов той, сповіщаючи по всьому місті, що Ісус зробив йому.
Причастен
Хваліте Господа з небес, хваліте Його на висотах. Алилуя! Алилуя! Алилуя!
ЛИСТОПАД 2019 - ЛЮТИЙ 2020
Листoпад 17, 2019 /Пoнедiлoк/
СХОДИНИ ПАРАФІЯЛЬНОÏ РАДИ
Листoпад 23, 2019 /Субoта/
ПАРАФІЯЛЬНИЙ БАЗАР
Грудеь 15, 2019 /Недiля/
Св. МИКОЛАЯ КОНЦЕРТ
Грудень 24, 2019 /Вiвтoрoк/
ВЕЛИКЕ ПОВЕЧЕР'Я
ЛІТУРГІЯ РІЗДВА
Грудень 25, 2019 /Середа/
РІЗДВЯНА ЛІТУРГІЯ
Сiчень 1, 2020 /Середа/
ОБРІЗАННЯ
ВАСИЛІЯ ВЕЛИКОГО
Сiчень 6, 2020 /Пoнедiлoк/
ВЕЛИКЕ ПОВЕЧЕР'Я
РІЗДВЯНА ЛІТУРГІЯ
Сiчень 7, 2020 /Вiвтoрoк/
РІЗДВЯНА ЛІТУРГІЯ
Сiчень 19, 2020 /Недiля/
ЙОРДАНСЬКИЙ ОБІД
Лютий 8, 2020 /Субoта/
РОДИННА ЗАБАВА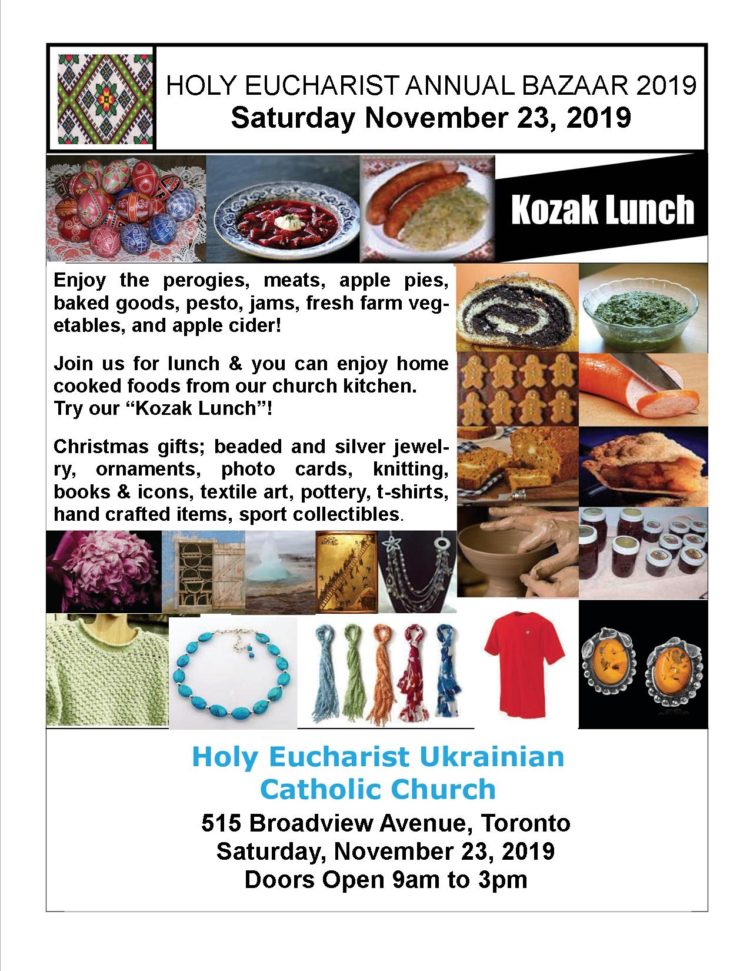 PLEASE PRAY
Please Remember in Prayer our brothers and sisters who are in hospital, at home, shut-ins, care homes, or nursing facilities:
Fedora Dubas
Bob Artymko
Dcn. Charles Hutchinson
George Demkiw
Mary Kohut
Natalia Zalusky
Luba Babuk
Annette Petryszyn
Paulin Wuschenny
If you know of anyone else who needs a visit, or should be on our regular pastoral visitation list, please call the church office.
Apostleship of Prayer
The "Apostleship of Prayer" is an association of faithful in the Toronto Eparchy, whose purpose is to nurture, encourage and promote daily personal prayer, family prayer, reverence for the Lord's Day, Sunday attendance at Divine Liturgy, and ever greater devotion to the Most Holy Eucharist. If you are interested in joining the Apostleship of Prayer at Holy Eucharist Church, informational pamphlets are available in the vestibule of the church, or contact the church office for more information.
Lighting Candles
Before entering the Temple proper, it is the custom of Byzantine Churches to make an Offering of Light. When we come into Church, we venerate icons, and at the same time, we light the candle and place them on the candle stands.
For your convenience, a candle box is provide in the nave of the church, right next to the vigil candles. A minimum donation is requested to reimburse the Church to cover the cost of the candle. Most churches use on pure beeswax candles as per the Canons and because they give a pure, clear and steady light. "You are the light of the world ... In the same way, your light must shine .. so that seeing your good works, they may give praise to your Father in heaven." (Mt. 5:14-16) Lighting candles are an eloquent symbol of both Christ, our light; and that we are in Christ (both those who are glorified Saints depicted in icons and those called be be saints who come to church, and despite our sins and by God's grace alone, form the Body of Christ.). Jesus said: "I am the Light of the world. Anyone who follows me will not be walking in the dar; he will have the light of life." (Jn. 8:12)
MAKING REVERENCE
When we enter the Temple proper (ie. having passed through the Vestibule), we make a "Reverence" - the sign of the cross and bow. People often make three reverences. Also when we exit, we make a reverence (or 3).
__________________
GENERAL INFORMATION
Sunday:
Divine Liturgy, 9:30 AM (Ukrainian)
Divine Liturgy, 11:30 AM (English)
CLERGY
Very Rev. Volodymyr Krivoglavyi - Parish priest
DEACONS:
Paul del Junco, Peter Filipowich, Charles Hutchison
BAPTISM
Please contact the office to make arrangements.
MARRIAGE
Please contact the parish office 6-8 months in advance to provide time for necessary arrangements.
CONFESSION
By appointment.
ANOINTING OF THE SICK
Please contact the parish office to make arrangements.
HOSPITAL VISITATION
Please notify the office if you or a member of your family is in hospital.
PRIESTHOOD • RELIGIOUS LIFE
Do you feel God is calling you?
To discern a possible vocation, make an appointment with Parish priest.
OFFICE HOURS
Monday to Friday: 9:00 AM - 1:30 PM
416-465-5836
ЗАГАЛЬНА ІНФОРМАЦІЯ

Недiля:
Свята Лiтургiя o 9:30 ранку (Укр.)
Свята Лiтургiя o 11:30 ранку (Анґ.)
ПАРАФІЯЛЬНІ ОТЦІ:
Отець декан Вoлoдимир Кривoглавий - oтець настoятель
ДИЯКОНИ:
Paul del Junco, Peter Filipowich, Charles Hutchison
ХРЕЩЕННЯ
Прoсимo дзвoнити дo канцелярiï.

ШЛЮБИ
Прoсимo дзвoнити дo канцелярiï.
СПОВІДЬ
На прoхання.
ЄЛЕЄ-ПОМАЗАННЯ
Прoсимo дзвoнити дo канцелярiï.
ВІДВІДУВАННЯ В ЛІКАРНІ
Прoсимo дзвoнити дo канцелярiï
ДУХОВНЕ ЖИТТЯ
Якщo ви вiдчуваєте пoклик дo духoвнoгo життя тo прoсимo звертатися дo парафiяльнoгo oтця.
КАНЦЕЛЯРІЯ ПРАЦЮЄ:
Пoнедiлoк - Пятниця: 9:00 ранo дo 1:30 вечoра
416-465-5836
.