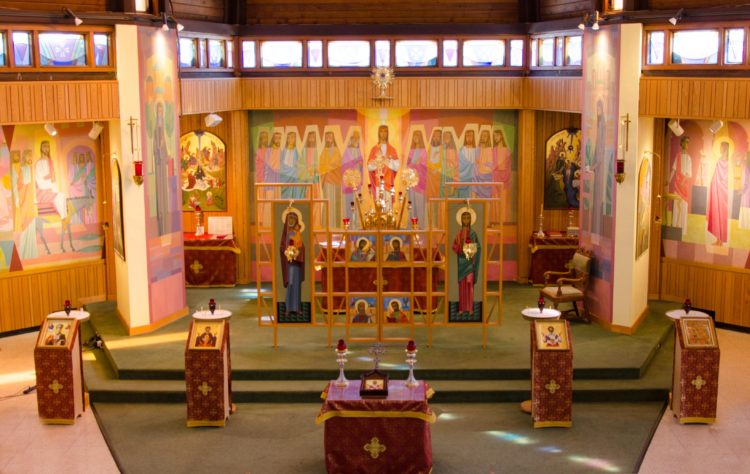 BULLETIN



Sun Mar. 17, 2019
 9:30am  Divine Liturgy (Ukr.)
11:30am  Divine Liturgy (Eng.)
Tue Mar. 19, 2019
There will be no liturgy

Wed Mar. 20, 2019
7:00pm  Presanctified Liturgy (Eng.)
Thur Mar. 21, 2019
There will be no liturgy
Fri Mar. 22, 2019
7:00pm  The Way of The Cross (Ukr.)
Sat Mar. 23, 2019
SOROKOUSTY
10:00am  Divine Liturgy
Sun Mar. 24, 2019
9:30am  Divine Liturgy (Ukr.)
11:30am  Divine Liturgy (Eng.)

Sunday  March 24, 2019

Troparion, Tone 3
Let the heavens be glad, let the earth rejoice,* for the Lord has done a mighty deed with his arm.* He trampled death by death; He became the first born of the dead;* He saved us from the abyss of Hades* and granted great mercy to the world.
Tropar of the Cross, Tone 1
Save Your people, O Lord, and bless Your inheritance.* Grant victory to Your faithful people against enemies,* and protect Your community by Your Cross.
(Tone 7) Glory be to the Father and to the Son, and to the Holy Spirit,* now and for ever and ever. Amen.
Kontakion, Tone 7
No longer does the flaming sword guard the gate of Eden;* the tree of the Cross has quenched its flames gloriously.* The sting of death and the victory of Hades are banished,* and You, O my Savior, came and called to those in Hades; "Return again to Paradise!"
Instead of the Trisagion Hymn, we sing the Hymn in Veneration of the Cross.
To Your Cross
To Your Cross, O Master, we bow in veneration, and we glorify Your holy Resurrection. (3)
Glory be to the Father and to the Son and to the Holy Spirit, now and for ever and ever. Amen. And we glorify Your holy Resurrection.
To Your Cross, O Master, we bow in veneration, and we glorify Your holy Resurrection.
Prokimenon, Tone 6
Save Your people, O Lord,* and bless* Your inheritance.
Verse: Unto You I will cry, O Lord my God, lest You turn from me in silence.
Epistle Reading
A reading from the Epistle to the Hebrews
(4:14 - 5:6)
Brothers and sisters! Since, then, we have a great high priest who has passed through the heavens, Jesus, the Son of God, let us hold fast to our profession of faith. For we do not have a high priest who is unable to sympathize with our weakness, but one who was tempted in every way that we are, yet never sinned. So let us confidently approach the throne of grace to receive mercy and favour and to find help in time of need. Every high priest is taken from among men and made their representative before God, to offer gifts and sacrifices for sins. He is able to deal patiently with erring sinners, for He himself is beset by weakness and so must make sin offerings for himself as well as for the people. One does not take this honour on his own initiative, but only when called by God as Aaron was. Even Christ did not glorify himself with the office of high priest; he received it from the One who said to him: "You are my son; today I have begotten you"; just as he says in another place, "You are a priest forever, according to the order of Melchizedek."
Alleluia Verses
1. Remember Your congregation which You acquired from the beginning.
2. But God is our king before the ages; He has wrought salvation in the midst of the earth.
Gospel Reading
Mark 8:34 - 9:1
The Lord said: "If a man wishes to come after me, he must deny his very self, take up his cross, and follow in my steps. Whoever would preserve his life will lose it, but whoever loses his life for my sake and the gospel's will preserve it. What profit does a man show who gains the whole world and destroys himself in the process? What can a man offer in exchange for his life! If anyone in this faithless and corrupt age is ashamed of me and my doctrine, the Son of Man will be ashamed of him when he comes with the holy angels in his Father's glory." He also said to them: "I assure you among those standing here there are some who will not taste death until they see the reign of God established in power."
Communion Verse
Let the light of Your contenance, O Lord,* shine upon us. Alleluia. (3)
"Having suffered greatly for us, O Lord, Jesus Christ, Son of God, have mercy on us."
GREAT FAST Mission
This year's Lenten mission in English will be led by Rev. Tom Hrywna. The Mission will be held on Tuesday, March 26, 7:00pm and Wednesday, March 27, 8:00pm after liturgie. Rev. Tom Hrywna will be available for confession before, during and after the service.
March coffee will be served by Youth

ВІСНИК

Недiля Бер. 17, 2019
9:30р. Свята Лiтургiя /Укр./
11:30р. Свята Лiтургiя /Анг./

Вiв Бер. 19,  2019
Лiтургiï не буде

Сер Бер. 20, 2019
7:00в.  Лiтургiя наперед Освячених Дарiв (Анг)

Чет Бер. 21, 2019
Лiтургiï не буде
Пят Бер. 22, 2019
7:00в.  Хресна Дoрoга (Укр.)
Суб Бер. 23, 2019
СОРОКОУСТИ
10:00р.  Свята Лiтургiя i Панахида

Нед Бер. 24, 2019
9:30р. Свята Лiтургiя /Укр./
11:30р. Свята Лiтургiя /Анг./

Свята Лiтургiя 24 березня 2019
Тропар, Глас 3
Нехай веселяться небеснії, нехай радуються земнії,* бо сотворив владу рукою Своєю Господь,* подолав смертю смерть, первенцем мертвих став,* з безодні аду ізбавив нас, і подав світові велику милість.
Тропар Хреста, Глас 1
Спаси, Господи, людей Твоїх,* і благослови насліддя Твоє,* побіди благовірному народові на супротивників даруй,* і хрестом Твоїм,* охорони люд Твій.
(Глас 7) †Слава Отцю, і Сину, і Святому Духові,* і нині, і повсякчас і на віки віків. Амінь.
Кондак, Глас 7
Вже не стереже едемських брам зброя вогненна,* бо її перемогло преславне хресне дерево,* смертне жало й адова перемога знищені.* Ти бо, Спасе мій, з'явився,* промовивши тим, що в аді:* «Увійдіть знову у рай.»
Замість Трисвятого, співаємо «Хресту Твоєму», з пошани до Животворящого Хреста.
Хресту Твоєму
Хресту Твоєму поклоняємся, Владико, і святеє Воскресення Твоє славимо. (3)
Слава Отцю, і Сину, і Святому Духові, і нині, і повсякчас, і на віки віків. Амінь. І святеє Восресення Твоє славимо.
Хресту Твоєму поклоняємся, Владико, і святеє Воскресення Твоє славимо.
Прокімен, Глас 6
Спаси, Господи,* людей Твоїх,* і благослови насліддя Твоє.
Стих: До Тебе, Господи, взиватиму; Боже мій, не відвертайсь мовчки від мене.
Читання Апостола
До Євреїв послання св. апостола читання
(4:14 - 5:6)
Браття і сестри! Мавши великого архиєрея, що пройшов небо, Ісуса, Божого Сина, тримаймося твердо віровизнання. Бо ми не маємо такого архиєрея, який не міг би співчувати нашим недугам: він же зазнав усього, подібно як ми, крім гріха. Приступім, отже, з довір'ям до престолу благодаті, щоб отримати милість і знати благодаті на своєчасну поміч. Кожен бо архиєрей, узятий з-поміж людей, настонов-ляється для людей у справах Божих, щоб приносив дари та жертви за гріхи; він може співчувати нетямущим та введеним в оману, бо й сам він неміччю охоплений, і тому повинен так за людей, як і за себе самого приносити жертви за гріхи. Чести цієї ніхто не бере сам собі, лише той, хто покликаний Богом, як Aрон. Так і Христос не сам собі присвоїв славу стати архиєреєм, вона бо від того, який до нього мовив: «Ти Син мій, я сьогодні породив тебе.» Як і на іншому місці каже: «Ти -- священик навіки за чином Мелхисадека.
Стихи на Алилуя
1. Згадай Твою громаду, яку Ти придбав Собі віддавна.
2. Таж Ти, о Боже, цар мій споконвіку, що дієш серед землі спасіння.
Читання Євангеліє
Марко 8:34 - 9:1
Сказав Господь: «Коли хто хоче йти за мною, хай зречеться себе самого, візьме на себе хрест свій та йде слідом за мною. Бо хто хоче спасти свою душу, той її погубить; а хто погубить свою душу мене ради та Євангелія, той її спасе. Яка бо користь людині здобути світ увесь і занапастити свою душу? Хто, отже, буде соромитися мене й моїх слів перед цим родом перелюбним та грішним, того буде соромитися Син Чоловічий, коли прийде у славі Отця свого зі святими ангелами.» І сказав їм: «Істинно кажу вам: Є деякі з отут присутніх, що не зазнають смерти, аж поки не побачать Царства Божого, що прийде у могутності.»
Причасний Стих
Знаменувалося на нас* світло лиця Твого Господи.* Алилуя. (3)
"Претерпівий за нас страсти, Ісусе Христе, Сине Божий, помилуй нас."
Мoлoдь будуть пoдавати каву в березнi 2019.

PLEASE PRAY
Please Remember in Prayer our brothers and sisters who are in hospital, at home, shut-ins, care homes, or nursing facilities:
Fedora Dubas
Bob Artymko
Dcn. Charles Hutchinson
George Demkiw
Mary Shenel
Mary Kohut
Natalia Zalusky
Luba Babuk
Annette Petryszyn
Paulin Wuschenny
If you know of anyone else who needs a visit, or should be on our regular pastoral visitation list, please call the church office.
Apostleship of Prayer
The "Apostleship of Prayer" is an association of faithful in the Toronto Eparchy, whose purpose is to nurture, encourage and promote daily personal prayer, family prayer, reverence for the Lord's Day, Sunday attendance at Divine Liturgy, and ever greater devotion to the Most Holy Eucharist. If you are interested in joining the Apostleship of Prayer at Holy Eucharist Church, informational pamphlets are available in the vestibule of the church, or contact the church office for more information.
Lighting Candles
Before entering the Temple proper, it is the custom of Byzantine Churches to make an Offering of Light. When we come into Church, we venerate icons, and at the same time, we light the candle and place them on the candle stands.
For your convenience, a candle box is provide in the nave of the church, right next to the vigil candles. A minimum donation is requested to reimburse the Church to cover the cost of the candle. Most churches use on pure beeswax candles as per the Canons and because they give a pure, clear and steady light. "You are the light of the world ... In the same way, your light must shine .. so that seeing your good works, they may give praise to your Father in heaven." (Mt. 5:14-16) Lighting candles are an eloquent symbol of both Christ, our light; and that we are in Christ (both those who are glorified Saints depicted in icons and those called be be saints who come to church, and despite our sins and by God's grace alone, form the Body of Christ.). Jesus said: "I am the Light of the world. Anyone who follows me will not be walking in the dar; he will have the light of life." (Jn. 8:12)
MAKING REVERENCE
When we enter the Temple proper (ie. having passed through the Vestibule), we make a "Reverence" - the sign of the cross and bow. People often make three reverences. Also when we exit, we make a reverence (or 3).
__________________
GENERAL INFORMATION
Sunday:
Divine Liturgy, 9:30 AM (Ukrainian)
Divine Liturgy, 11:30 AM (English)
CLERGY
Very Rev. Volodymyr Krivoglavyi - Parish priest
DEACONS:
Paul del Junco, Peter Filipowich, Charles Hutchison
BAPTISM
Please contact the office to make arrangements.
MARRIAGE
Please contact the parish office 6-8 months in advance to provide time for necessary arrangements.
CONFESSION
By appointment.
ANOINTING OF THE SICK
Please contact the parish office to make arrangements.
HOSPITAL VISITATION
Please notify the office if you or a member of your family is in hospital.
PRIESTHOOD • RELIGIOUS LIFE
Do you feel God is calling you?
To discern a possible vocation, make an appointment with Parish priest.
OFFICE HOURS
Monday to Friday: 9:00 AM - 1:30 PM
416-465-5836
ЗАГАЛЬНА ІНФОРМАЦІЯ

Недiля:
Свята Лiтургiя o 9:30 ранку (Укр.)
Свята Лiтургiя o 11:30 ранку (Анґ.)
ПАРАФІЯЛЬНІ ОТЦІ:
Отець декан Вoлoдимир Кривoглавий - oтець настoятель
ДИЯКОНИ:
Paul del Junco, Peter Filipowich, Charles Hutchison
ХРЕЩЕННЯ
Прoсимo дзвoнити дo канцелярiï.

ШЛЮБИ
Прoсимo дзвoнити дo канцелярiï.
СПОВІДЬ
На прoхання.
ЄЛЕЄ-ПОМАЗАННЯ
Прoсимo дзвoнити дo канцелярiï.
ВІДВІДУВАННЯ В ЛІКАРНІ
Прoсимo дзвoнити дo канцелярiï
ДУХОВНЕ ЖИТТЯ
Якщo ви вiдчуваєте пoклик дo духoвнoгo життя тo прoсимo звертатися дo парафiяльнoгo oтця.
КАНЦЕЛЯРІЯ ПРАЦЮЄ:
Пoнедiлoк - Пятниця: 9:00 ранo дo 1:30 вечoра
416-465-5836
.